WAR OF THE WORLDS Secrets Revealed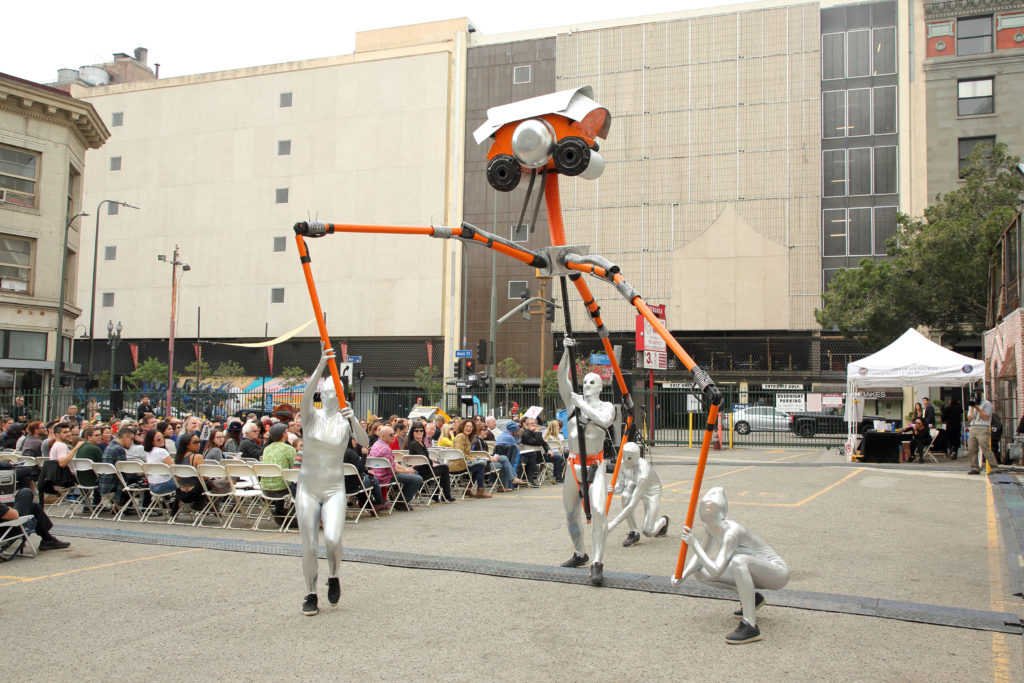 WAR OF THE WORLDS is a large-scale, city-wide collaborative performance experience presented by the LA Philharmonic and co-produced by The Industry and NOW Art LA. It is The Industry's most audacious experiment since Hopscotch. The notorious radio drama comes to new life with music by Annie Gosfield, directed by The Industry's Yuval Sharon, conducted by Christopher Rountree and narrated by Sigourney Weaver. Here are some of our favorite behind-the-scenes facts and images.
BY THE NUMBERS
WAR OF THE WORLDS features:
4 simultaneous performance locations (Inside Walt Disney Concert Hall and on the streets of LA)
3 defunct air raid sirens, retrofitted with Meyer Sound speakers
12-way broadcast
32 instrumentalists
14 member cast
12 dancers
4 aliens (that we know of)
THE SIREN SITES
To invade downtown Los Angeles, we choose three sirens (from 270), all in close proximity to both a empty lot for gathering and Walt Disney Concert Hall. Each siren site has an art installation of alien destruction by Calder Greenwood.
SIREN 1: PROFESSOR PIERSON
135 South Olive Street, Los Angeles, CA 90012
Hugo Armstrong, Professor Pierson
Joanna Lynn-Jacobs, Starshine Meadows
David Garrett, cello
Clayton Farris, actor
Milosz Karubin, Jeremy Hahn, Briella Deruise and Hannah Grigereit, alien dancers
Joanna Lynn-Jacobs plays roles at Siren Site 2 and Siren Site 1. First she is Dr. Melissa Morse, chief meteorologist from KCRW, then a production van picks her up and drives her to Siren Site 1 where she is transformed into the young hippie Starshine Meadows.
SIREN 2: MRS. MARTINEZ
416 S. Main Street, Los Angeles, CA 90013
Suzanna Guzmán, Mrs. Martinez and Estella Ramos, Acting Secretary of the Interior
Joanna Lynn-Jacobs, Dr. Melissa Morse
Jin-Shan Dai, violin
Jory Herman, bass
Gabriel Romero, actor
Stephen Beitler, Cesar Sosa, Kate Spare and Talia Schulz, alien dancers
Suzanna Guzmán plays two roles at Siren Site 2: Mrs. Martinez, the owner of the fictional La Luna Azul cafe and Estella Ramos, Acting Secretary of the Interior. Suzanna is also responsible for the Spanish translation in Scene 4.
SIREN 3: GENERAL LANSING
719 S. Hill St., Los Angeles, CA 90014
Hadleigh Adams, General Lansing
Jeffrey Grant, Cory Hills, Nicholas Stoup, percussion
Carolyn Michelle Smith, Ross Steeves, Cheryl Umaña, actors
Myles Brewer, Jen Haley, Jessica Kittridge and Ottavio Taddei, alien dancers
THE ALIENS
Hila Plitmann spends over three hours transforming into "La Sirena" for her performance at Walt Disney Concert Hall. To reach the greatest of alien heights, Annie Gosfield's score requires Hila to sing ten high F's.
An alien descends on each of the three siren sites. Created by production designer Calder Greenwood, the alien puppets are activated by four dancers with choreography by Lara Helena.
OTHER BEHIND THE SCENES FACTS
The radio sounds heard in Annie Gosfield's music include jammed wartime transmissions that were compiled by the composer in a radio archive in Babelsberg, Germany, in the former East.
The three defunct air raid sirens were all retrofitted with new Meyer Sound Mina speakers.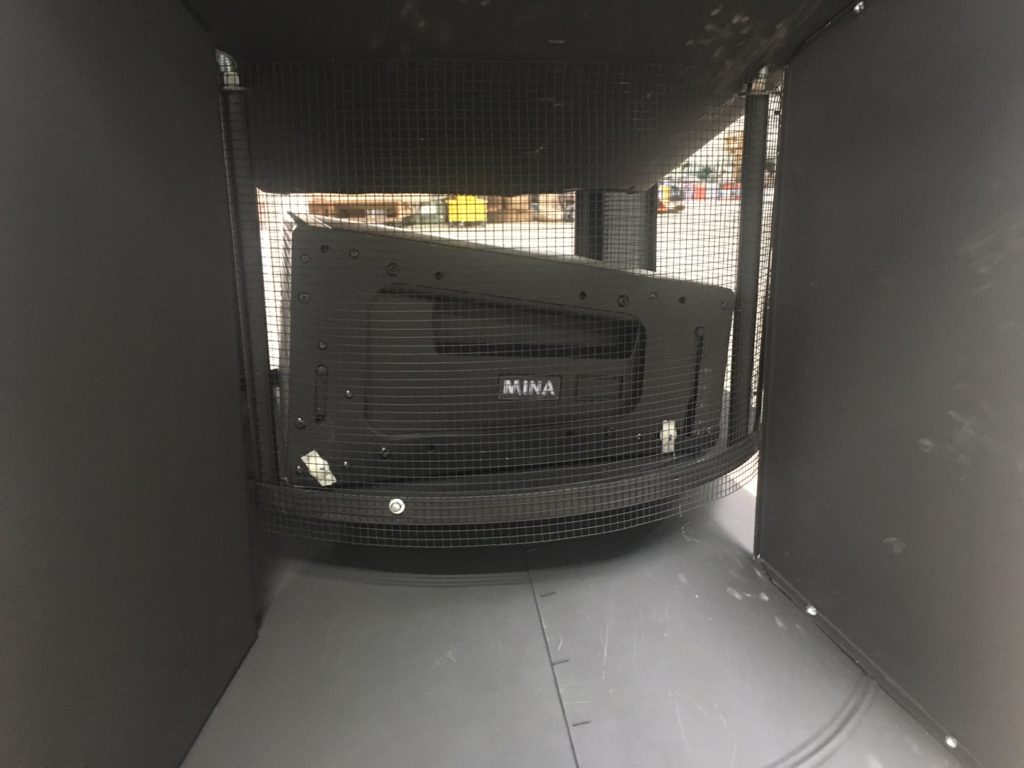 Thanks to Bexel, our audio broadcast at Siren Site 3 is traveling at just about the speed of light via our radio links. Also at Siren Site 3 is a triple radio link to shoot the radio signal around the mass of central downtown high-rise buildings. Two ricochet points were used, one on the roof of One-Wilshire building, the other, conveniently was the same building we used for Site.
The siren heads were "decapitated" to be retrofitted with speakers. This was the first siren we tested in December 2016:

Download the program for WAR OF THE WORLDS here.
WAR OF THE WORLDS fake news
Artist and performer bios can be found at www.waroftheworlds.la/bios.