Return of FIRST TAKE, Debut of SECOND TAKE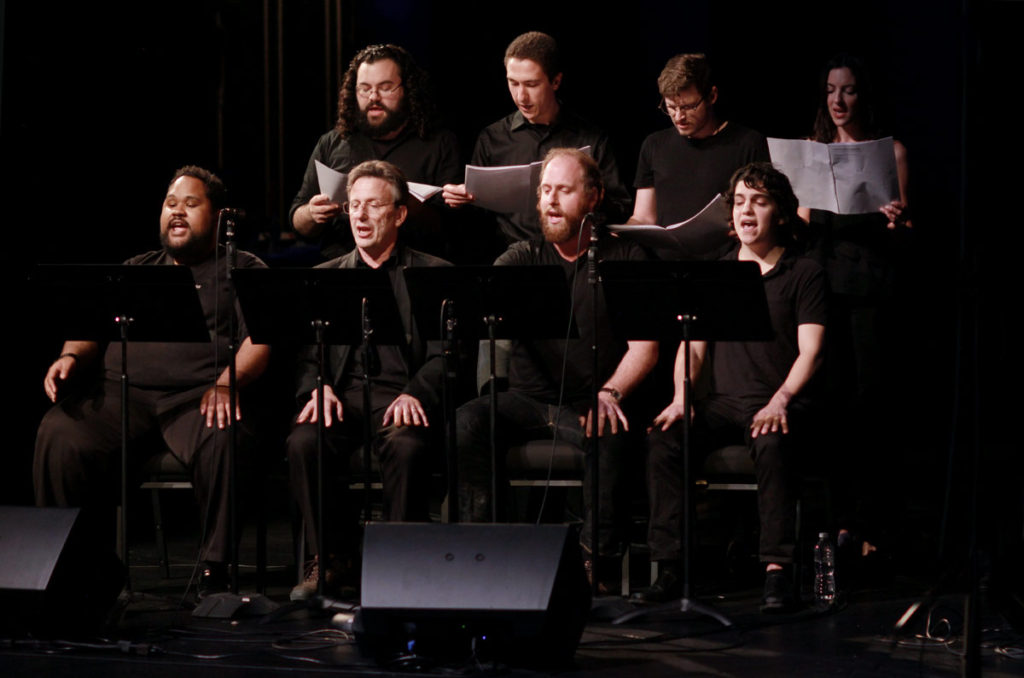 Biennial workshop of new operas in concert,
Feb. 24 + 25, 2017 in Los Angeles
CO-PRESENTED BY wild Up
FIRST TAKE: 6 WORKS-IN-PROGRESS
by Nicholas Deyoe, William Gardiner and Thomas Rawle, John Hastings,
Laura Karpman, Marc Lowenstein, Dylan Mattingly
SECOND TAKE: CONCERT PREMIERE OF
ANDREW MCINTOSH'S BONNIE AND CLYDE  
"An essential component in American opera." – Mark Swed, Los Angeles Times
The Industry is pleased to announce the third installment of FIRST TAKE, a biennial West Coast workshop of new American operas, and to introduce SECOND TAKE, presenting an entire performance of a new opera first heard on the previous FIRST TAKE program. The two programs provide a rare and vital opportunity for American opera creators to test new works before the public, in a concert setting with full orchestration.
Co-presented by its "house band," LA's fearless wild Up ensemble, FIRST TAKE will showcase excerpts from six new opera works-in-progress, composed by Nicholas Deyoe,William Gardiner and Thomas Rawle, John Hastings, Laura Karpman, Marc Lowenstein, and Dylan Mattingly. Audiences are invited to come and go throughout the three-hour performance, which is free and will take place Friday, February 24 2017 (7 – 10:30 pm) at the Aratani Theater, 244 S. San Pedro St. in Little Tokyo, Los Angeles.
SECOND TAKE launches with the concert premiere of Bonnie and Clyde by composer Andrew McIntosh and librettist Melinda Rice on Saturday, February 25 (7 – 8:30 pm), at the ornate Wilshire Ebell Theatre, at 4401 W 8th St. in Los Angeles. Tickets will be $10 and will be available HERE. McIntosh and Rice were commissioned to complete the work with the generous support of Stephen Block, Leslie Lassiter, and Raulee Marcus.
FIRST TAKE and SECOND TAKE are curated by The Industry's Artistic Director, Yuval Sharon , in collaboration with wild Up's Artistic Director Christopher Rountree, The Industry's Music Director Marc Lowenstein, and The Industry's Executive Director Elizabeth Cline. FIRST TAKE is modeled on the format Sharon created during his four years as Project Director of New York City Opera's influential VOX program between 2005-09. Under his leadership, VOX became the most important crucible for new opera in the country: of the 40 works Sharon workshopped at VOX, 25 have gone on to future life in companies around the world, including the first two operas produced by The Industry: Anne LeBaron's Crescent City and Christopher Cerrone's Pulitzer Prize-nominated Invisible Cities.
FIRST TAKE scores are chosen from an open call – a record 68 submissions for 2017. Each opera performed during FIRST TAKE is presented unstaged, enabling the audience to focus on the music and libretto, and introduced by a short video pulled from interviews with the creators. FIRST TAKE will be conducted by Marc Lowenstein, and SECOND TAKE will be conducted by Christopher Rountree.
FIRST TAKE was launched on June 1, 2013 at the Hammer Museum's Billy Wilder Theater. Among the six new works showcased was an opera by the legendary Pauline Oliveros, set to a text by the poet Ione, and a theatrical song-cycle by Mohammed Fairouz, set to Wayne Koestenbaum's riff on Pierrot Lunaire. The second installment took place February 21, 2015 at the Wallis Annenberg Center for the Performing Arts; highlights included excerpts from new works by Anne LeBaron, Jenny Olivia Johnson, and Paul Pinto, as well as Andrew McIntosh's Bonnie and Clyde, which will be heard in full in this year's SECOND TAKE.
Says Yuval Sharon, "FIRST TAKE is an essential aspect of The Industry's mission to support new modes of operatic creation. Emphasizing exploration through the rehearsal process, the six creative teams will come away from the performances with the practical experience of working with a great ensemble – our partners wild Up – as well as the documentation they need for the further development of their work. I'm especially happy to expand the workshop with SECOND TAKE, giving Andrew McIntosh and Melinda Rice the opportunity to complete the entirety of Bonnie and Clyde and get real-time feedback from an audience."
2 0 1 7   P R O G R A M S
FIRST TAKE
Friday, February 24, 2017 (7 – 10:30 pm)
Aratari Theater, Japanese American Cultural and Community Center
244 S. San Pedro St., Los Angeles
FREE
Little Bear
Music and Libretto: Marc Lowenstein (Los Angeles)
A family opera from the Music Director of The Industry, Little Bear explores what fairy tales reveal about the psychology of time, change, loss, and love.
Stranger Love
Music: Dylan Mattingly (Berkeley, CA)
Libretto: Thomas Bartscherer
Stranger Love: Inspired by Plato's Symposium and drawing on diverse literary sources and the polyphonic vocal music of Polynesia and Central Africa, Stranger Love employs narrative and abstract motifs to tell a love story that culminates in "a moving image of eternity."
The Former World
Music and Text: John Hastings (New York)
More an installation than an opera, The Former World creates an artistic unfolding of geologic time in two time scales: earth and humanity. Musical layers are developed like the striations found in geology as four singers create a tapestry of text.
All Is For The Best
Music: William Gardiner (New York) and Thomas Rawle (London, UK)
Animation and Text: Thomas Rawle
Real-time animations accompany music that explores the mentality of the modern Western mind.
Balls
Music: Laura Karpman (Los Angeles)
Libretto: Gail Collins (New York)
Balls dramatizes the tennis match between Billie Jean King and Bobby Riggs and draws on the comedic, dramatic, and hugely political nature of this match. "The Battle of the Sexes" changed not only the perception and treatment of women in sports forever, but substantially advanced the women's rights movement.
Haydn's Head
Music: Nicholas Deyoe (Los Angeles)
Libretto: Rick Burkhardt (New York)
Haydn's Head is intended as a puppet opera. It is based on a true episode: four days after Haydn's death, composer Johann Nepomuk Peter and a friend of Haydn's, Joseph Carol Rosenbaum, opened the departed composer's grave at night and stole his head. Their quest was fueled by the vogue for phrenology, the pseudo-scientific study of skull shapes.
SECOND TAKE
Saturday, February 25 (7 – 8:30 pm)
Wilshire Ebell Theatre
4401 W 8th St., Los Angeles
$10 admission
Bonnie and Clyde (Full Opera)
Music: Andrew McIntosh (Los Angeles)
Libretto: Melinda Rice (Los Angeles)
Featured in FIRST TAKE 2015, Bonnie and Clyde takes a fresh look at Bonnie Parker and Clyde Barrow's 1930s crime spree through the eyes of those who witnessed it. The work is a tense and complex emotional reading of the often contradictory historical records created by family, collaborators, bystanders, and law enforcement. The result is a portrait of the notorious couple's lives outside their legendary status.
Andrew McIntosh, one of the composers of The Industry's Hopscotch, writes music of "spare, rarefied sonorities, which tilt away from traditional tunings, give an air of mythic otherness." (The New Yorker) He has been praised for "gorgeous, shape-shifting panes of color and light create a psychologically potent yet exquisitely balanced work of art" (Bachtrack).