New Year, New Chairman of the Board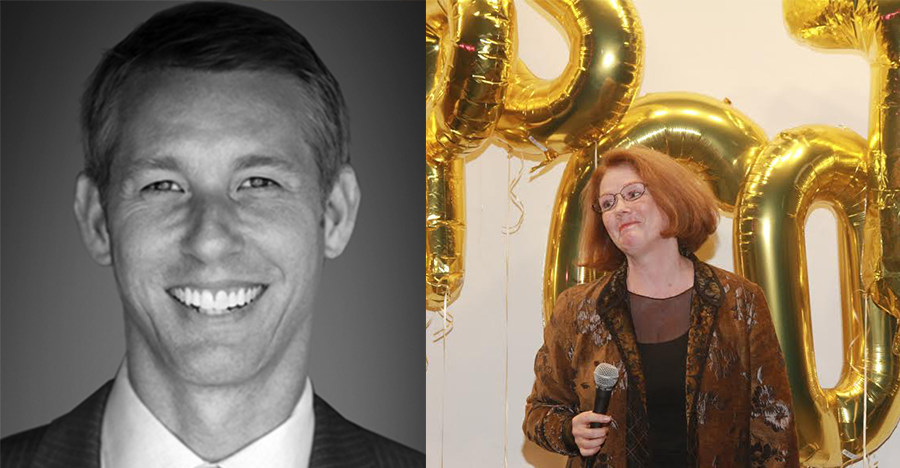 From Mary Ann O'Connor, The Industry's Departing Board Chair
I became Chair of the Board of Directors three years ago, just as The Industry received its official non-profit status. In the preceding two years, Yuval Sharon, the founder and Artistic Director of The Industry, had already managed to pull off the exciting world-premiere of Crescent City.  We were then in the early stages of making Invisible Cities.  Key creative team members were already involved, including Mark Lowenstein, our Music Director. But as an organization, The Industry was tiny and new.
Our Board had five members including Yuval and David Mack (then General Manager). Our mailing addresses were a post office box and Yuval's apartment. Our meetings took place in restaurants, or at Yuval's apartment.  The highest salary we paid was $15,000, and many people simply volunteered their time and talent. We had very small stipends for the core team and relied mostly on people volunteering their time and talent. Our Board retreat was at my house in Ojai, and it was there that we identified our goals, our general audience and micro-audiences, our prospective donors, and our plans for Board and organizational development.
I write this to make clear what a small group of determined people can still achieve here. Yuval's vision and drive were essential, of course.   But the openness of Los Angeles, the readiness of people to embrace experimental music and production, was equally essential. In particular, I want to recognize our early donors, who were prepared to take the risk of supporting an emergent opera company.
The Industry's latest production, Hopscotch, has just closed.  It has been phenomenally successful, by any measure one might care to use.  The Board and staff, including our wonderful Executive Director Elizabeth Cline, made a huge stretch to raise a million dollars for the production.  This, I would note, is a million dollars that went right back into our local economy in jobs for L.A.-based librettists, composers, singers, musicians, visual artists and production team members.
Yuval's talent has become widely recognized. In addition to his work with The Industry, he will be an Artist / Collaborator with the Los Angeles Philharmonic for the next three years. The Industry has served as an incubator and launch pad for many other talents as well.  The composer Christopher Cerrone was a Pulitzer Prize finalist in 2014 for Invisible Cities.  Vocalists and musicians have been profiled. Even our administrative assistants and technical teams have been noticed and sought out for additional work.
Our Board has expanded to ten members, and will be expanding further in the year ahead. It is telling that people are now asking to join the Board. We have a small but comfortable office, and staff salaries are now decent. We have covered our 2015 budget. Our Board has adopted an appropriate mission statement, by-laws, governing principles, personnel policies, and financial reporting systems. We have built many new relationships, with individuals and communities, in parts of L.A. that are not often included in the world of opera or classical music.  We are on track in every way to continue to surprise, provoke and delight our Los Angeles audiences.
Thank you to all of you who have, in various ways, supported The Industry.  I want to express my personal gratitude as well as the Board's thanks to you.  Each and every one of you made a positive difference in the life of our small, new company.
My successor as Chair is Mark Hoebich.  A young and successful businessman with a great passion for music, Mark has been on the Board since early 2014.  He served as Board Secretary and then as Vice-Chair, so he understands the organization well. I am so pleased to be turning both the responsibility and the joy over to him.
Happy Holidays to all of you, and best wishes for a creative 2016,
Mary Ann O'Connor
---
From Mark Hoebich, The Industry's Incoming Board Chair: 
I'm very happy to be assuming the Board Chairman role with the Industry, an organization I've come to admire very much in my tenure as Board Member, Board Secretary and Vice Chair.
Over the past two years the Industry has significantly grown as an organization and arts brand. The organization produced its most ambitious and successful work to date in HOPSCOTCH, which many of you supported and enjoyed.  It's been a thrill to be a part of that growth and I look forward to leading the board as we head into 2016.
I was introduced to the Industry in late 2013 through INVISIBLE CITIES, the Industry's inspiring, technology-driven production staged at Union Station in downtown Los Angeles.  Like many of you, our donors and supporters, I was drawn to the Industry by the magic its productions create in not only bringing different people together in our sometimes divided city, but by how it constantly endeavors to redefine opera as an art form. The Industry challenges our perception of live performance in the most positive sense, and I'm excited to contribute to that mission.
Some of you I've had the pleasure of meeting and many of you I look forward to meeting for the first time in 2016 at one of our many upcoming events.  Thank you for your continued support and please don't hesitate to reach out if you'd like to find ways to get involved with our growing organization.  Our donors, supporters and audience are the heart of our organization and we appreciate all you've done to continue our mission.
Happy New Year and best wishes for 2016,
Mark Hoebich